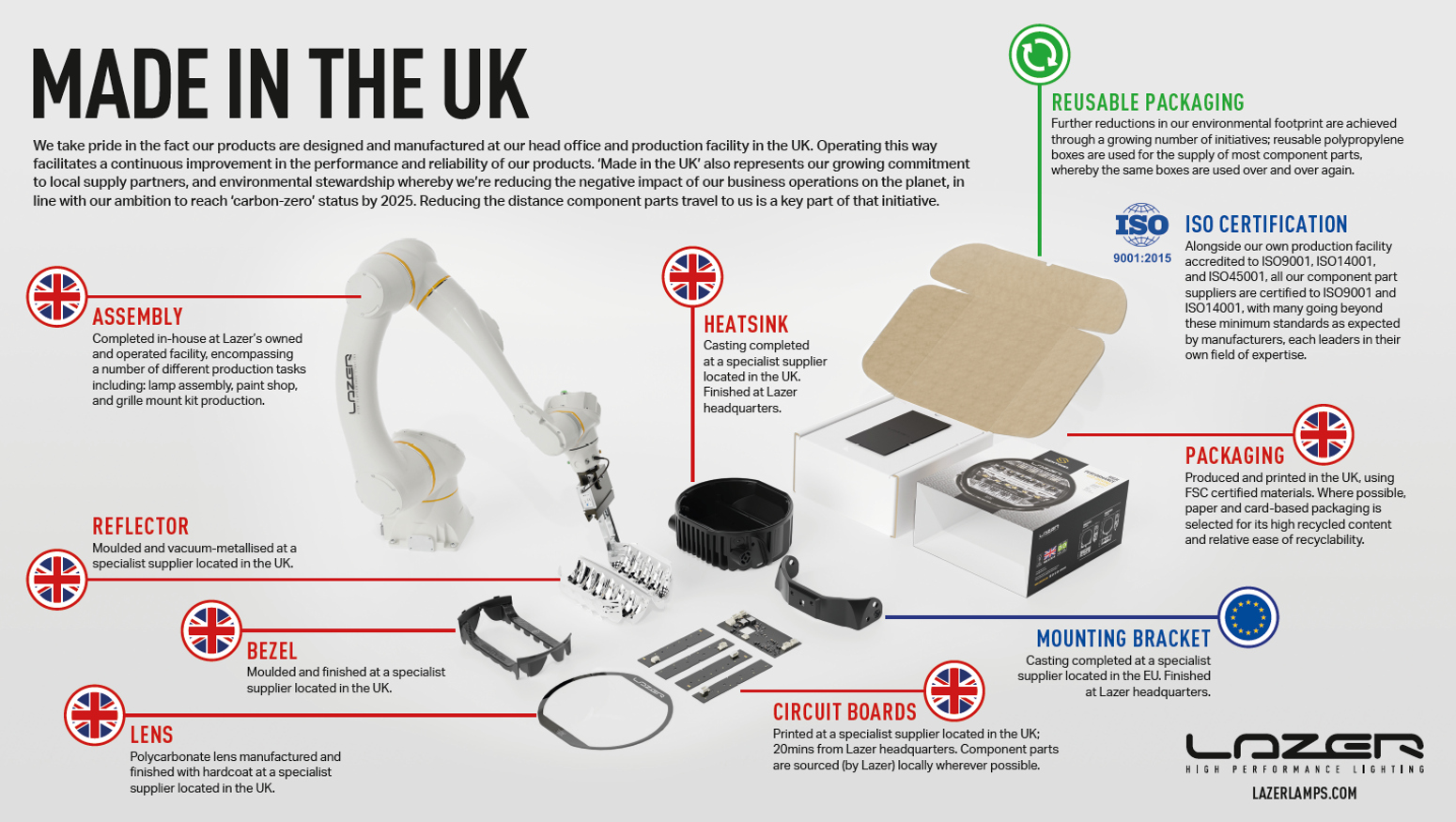 It's well-publicised that our products are designed and manufactured in the UK, but our UK-based processes go far beyond simple assembly of parts amassed from suppliers around the world. More so than ever we are:
Increasing our in-house production and process capabilities over which we have full control. Our strong opinion is that the only way to have complete visibility and confidence in the quality of both finished products and the component parts which go into them, is manage the production, or as many aspects of the production process, as possible. A good example of this would be our in-house paint shop where we can ensure the automotive-grade corrosion resistance of our products, coupled with first-class powder coat finish on lights and accessories.
Selecting UK and EU-based component parts suppliers who can more closely deliver on our high quality standards. Where it's not appropriate or possible for us to manage production of parts ourselves, the next best thing is local supply partners, each leaders in their respective product areas. The physical proximity of our suppliers ensures a level of collaboration and synergy that couldn't otherwise be achieved, not to mention the obvious benefits of sharing a common native language.
Putting environmental stewardship and our goal of carbon-neutrality at the heart of our decision-making. We've already taken important steps to reduce our impact on the environment. Energy contracts stipulating the use of renewable energy sources only, reusable and recyclable packaging (finished products and component parts that come to us), and a waste management programme that ensures 98% of the waste we do generate avoids landfill, are just a few examples of initiatives currently running.
For us, 'Made in the UK' stands not just for products manufactured to an exceptional standard, but done so in a way which minimises our impact on the planet. In the video below, Lazer Lamps' Owner and MD, Ben Russell-Smith demonstrates in more detail the component part sourcing, our internal operations, and how and what the company is doing to deliver you the best products, in the most sustainable way.