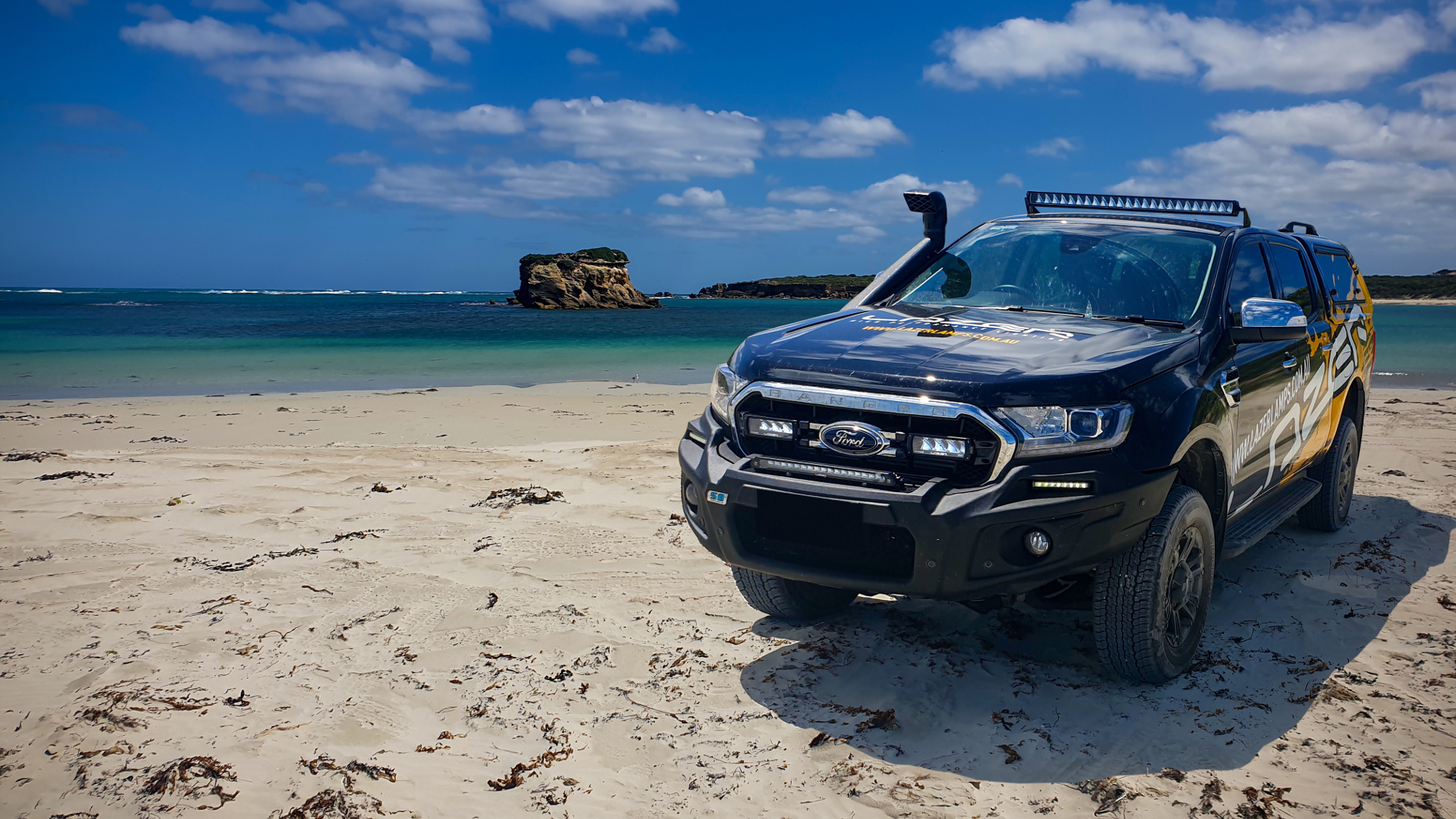 "At the front!" might sound like an obvious answer and while that is the simplest response there are many more options available thanks to the flexibility and versatility of the entire range of High Power Auxiliary LED Driving Lights from Lazer Lamps.
The answer to the "Best Mounting Positions for Auxiliary LED Lights?" question has a few variables to consider. What vehicle you have; What type of driving you do; What mounting points are available; What you need the extra illumination for.
The final issue to consider is what local restrictions or regulations are in force which may affect the choice of auxiliary driving light and where it is positioned on the vehicle. To answer that we previously published a blog looking specifically as 'Keeping it Legal" HERE.
So let's look at a few of these variables and see if we can filter your choice of mounting position. We won't be going too much into the specifics of each available LED driving light from Lazer Lamps, while they do each have their own characteristics and may be aimed at specific uses, we will focus mainly on the mounting positions.
In general, a well designed light bar mounted higher up on a vehicle is preferable. Lights mounted lower down and close to the road surface, with a comparatively tall up/down light distribution, risk throwing too much light on the road directly in front of the vehicle where it is not needed. That, or it may create shadows on uneven road surfaces.
Slower moving, utility or off-road vehicles might benefit from a wider beam pattern to illuminate more of the surrounding area whereas a fast-moving rally car will want as much light as far in the distance as possible, while still illuminating the sides of the track, hence the choice of multiple bonnet-mounted lights, each angled slightly differently, or using one of our rally-pods.
You can see a full list of available mounting brackets HERE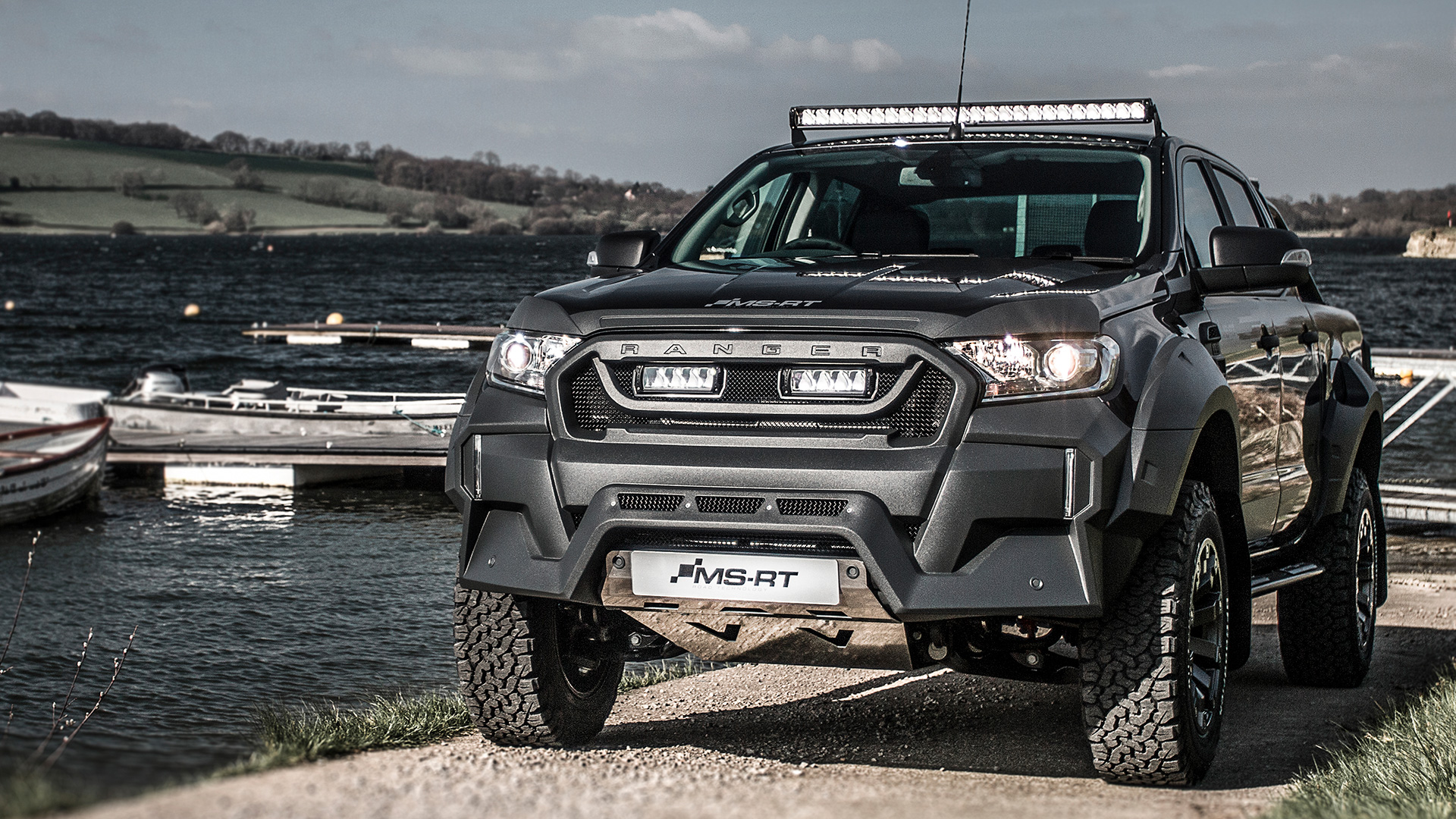 Roof Mounts
Mounting auxiliary lights on the roof of a pickup, 4x4 or van remains a firm favourite for many. It allows for a lightbar to stretch across the full width of the vehicle which delivers a very wide and powerful beam pattern.
One thing to note with roof mounted light bars from other manufacturers, or even the traditional single-bulb in the centre of a round reflector design, is that the spread of light is often not as precise as we aim to provide with Lazer LED lights. Cheaper light bars with forward-facing LEDs tend to project the light output in all directions in front of the light bar, which often means a lot of that light output is wasted by illuminating the roof and/or bonnet of the vehicle, creating unwanted glare.
Our Linear and Triple-R range utilise rear facing LEDs and the use of precision engineered reflectors to focus the light only where it is needed and avoids creating glare onto the vehicle bodywork. Even our ST Evolution range, which does feature forward facing LEDs, incorporates ultra-reflective vacuum-metallised reflectors to harness the maximum amount of light where you need it: on the road or trail ahead.
Another consideration is the potential for increased wind noise. Our LINEAR range has a very streamlined and aerodynamic, low profile of just 41mm making them very suitable for discreet installations, but also generate virtually no wind noise. Similarly our Triple-R Gen 2 range incorporated design improvements to reduce wind noise.
Having covered those important provisos, there are a few options for roof mounting Lazer Driving Lights or LED light bars: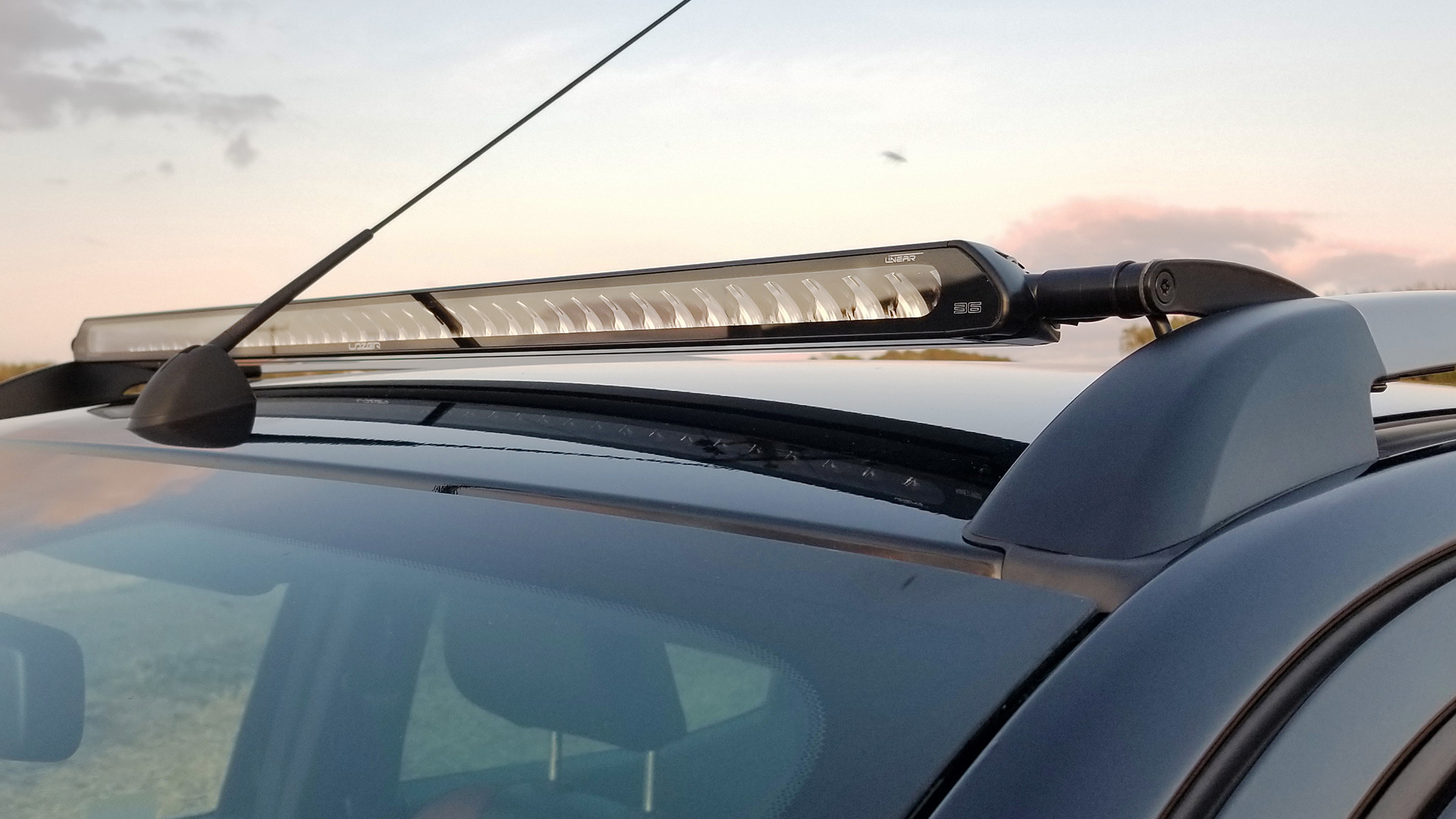 With or Without Roof Rails
Most pickup trucks, 4x4s, SUVs and even family saloon cars have the option to be fitted with roof rails. These usually clip into the roof gutters but some vehicle manufacturers attach them more securely with fixings through the bodywork. Either way, if you have roof rails you have a ready-made mounting point for an LED light-bar. We offer solutions for many vehicles which have been custom designed for a specific model and year of manufacture. These are engineered to either attach directly to the roof rails or fit into the roof channels (if no roof rails are present).
Fitting a light between roof rails sometimes means the actual LED light bar is shorter in length than a unit mounted to the roof channels. Check to see if we offer a ready-made solution for your vehicle or contact us for further advice. Our Roof mounting kits include everything you will need to mount the light to your vehicle, including wiring and instructions.
Fitting auxiliary driving lights to removeable roof bars, such as those offered by Thule, is an option but as these are not designed to be a permanent fit you should always choose a reputable, sturdy brand. Obviously if you intend to remove the roof bars at some point you may need to make allowances in the wiring to connect and disconnect the light.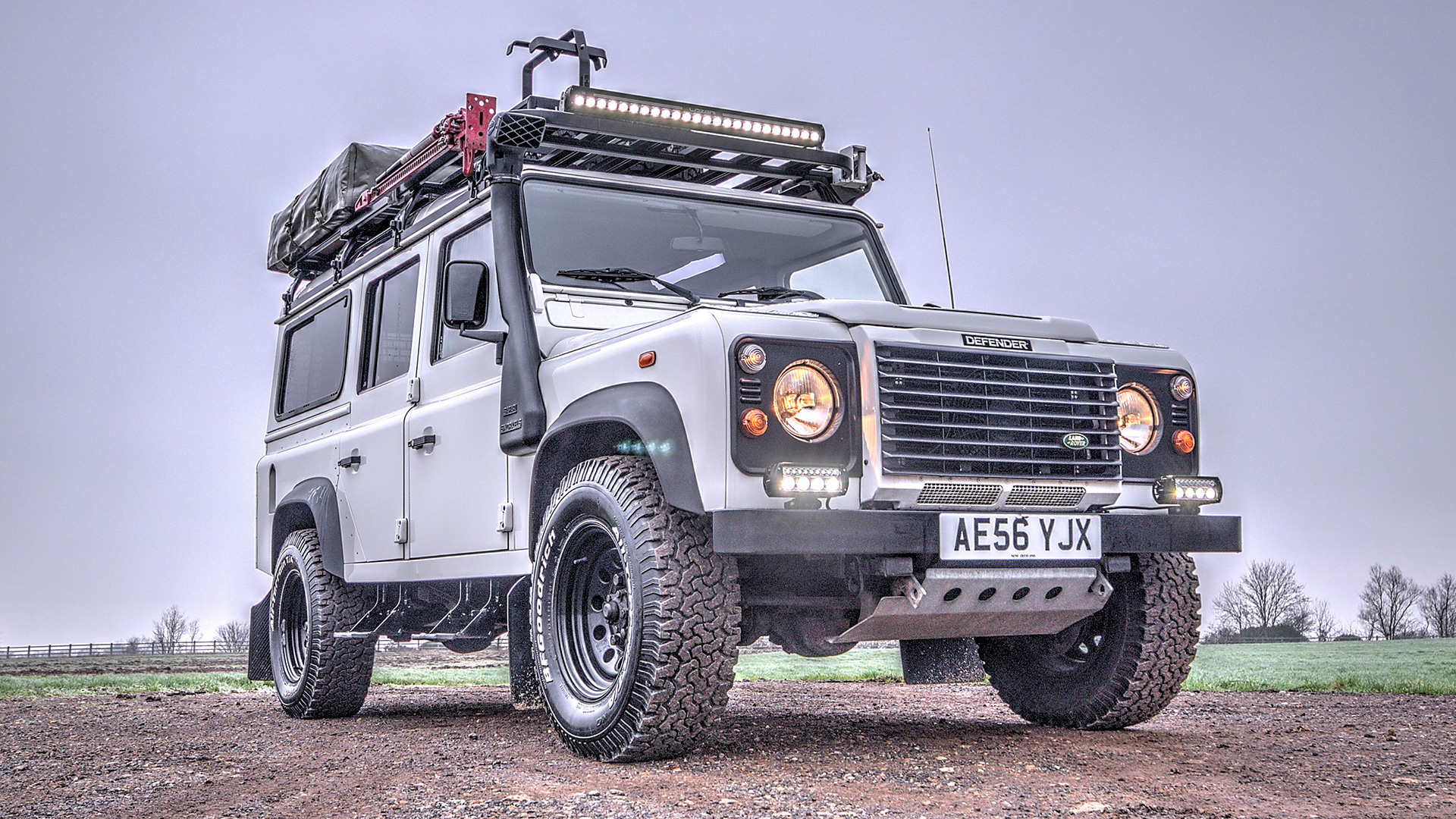 Roofrack Mounts
Most roof racks used on 4x4s, vans and SUVs are substantial in their construction. Whether it be a Brownchurch-style box- section roof-rack fitted to a Land Rover Defender or a more modern aero-style fitted to a later model SUV.
Our ST-Evolution and Triple-R range of LED driving lights can me mounted with the brackets on the top, bottom or ends of the light unit giving you great flexibility in how you could fit these lights, whether it be underslung, front facing or top-mounted.
Be aware that unless you order a custom designed kit from us – which will be supplied with the relevant wiring and fitting instructions - you will need to assess the most suitable wiring option for your vehicle, where the wiring will run and where it will enter the vehicle.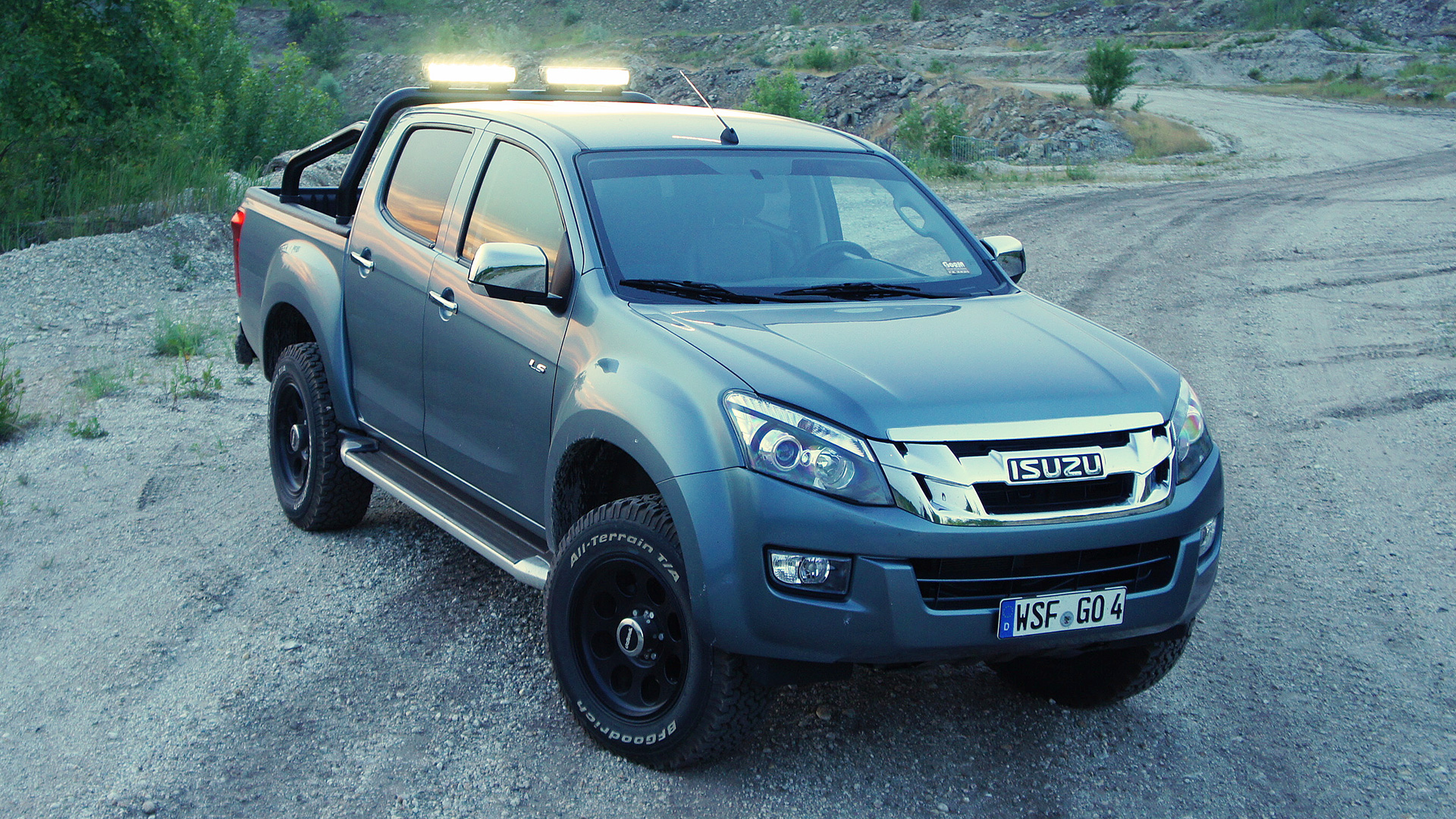 Roll Bar Mounts
External Roll-Bars, Sports-Bars or Roll-Cages as fitted to some pickups and 4x4s are another suitable location for mounting LED lights. We offer tube clamps in three sizes, 42mm, 60mm and 76mm which refers to the diameter of the sports bar or roll cage tubing.
Similar to the Roof Rack mounting option above you will need to decide on the most suitable wiring option for your specific vehicle.
Also many pick-up sports bars are located at the rear of the cab so choosing an LED light or light bar with a beam pattern which will not glare from the roof or bonnet of your truck will be an important consideration. The Triple-R Elite and Linear range of LED light bars from Lazer Lamps have been engineered with beam pattern which has a lower up/down spread of light, making them particularly suitable for this purpose.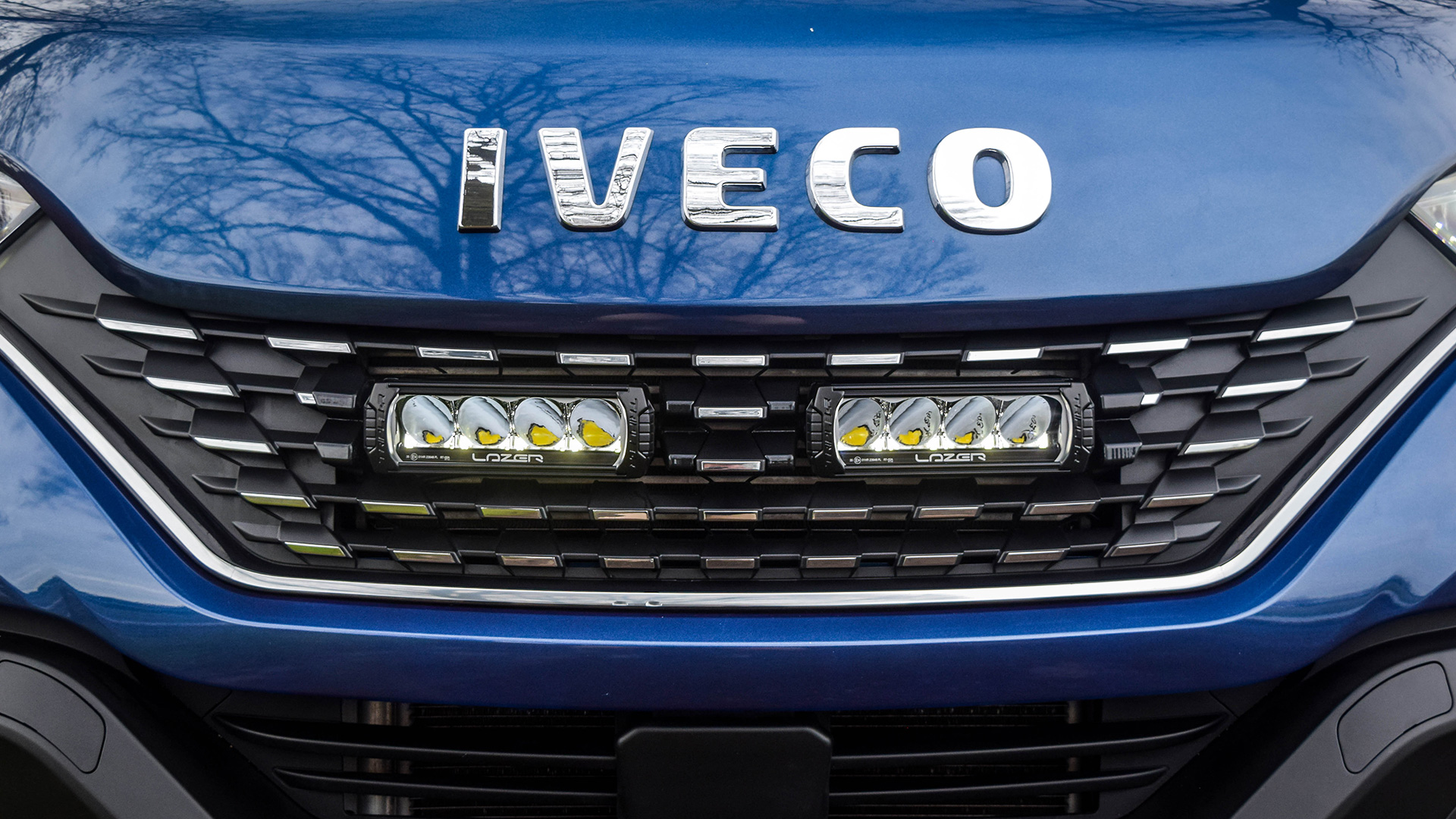 OEM Grille Integration
One of the things that Lazer Lamps has become renowned for is our Grille Integration Kits. We offer a unique solution which caters to the discerning vehicle owner who needs the benefits that our high powered LED driving lights can give but wants to retain that discreet OEM-style finish.
Grille Integration kits are available for a wide range of vehicles and allow for the fitment of auxiliary driving lights within the existing grille or front-end structure of a car, van, 4x4 or pickup.
Custom designed for each specific make and model year the grille kits are supplied with everything you will need to install the LED lights within the grille, including cutting guides, instructions, wiring harness and, obviously, the LED lights you chose to fit.
No other manufacturer can match this range of products but we continue to develop new solutions for more makes and model of vehicle. All of which are road legal and offer a fitting solution without requiring additional modification, brackets, bars or mounts to be fitted first.
Click to see the full list of Vehicle Integration Kits.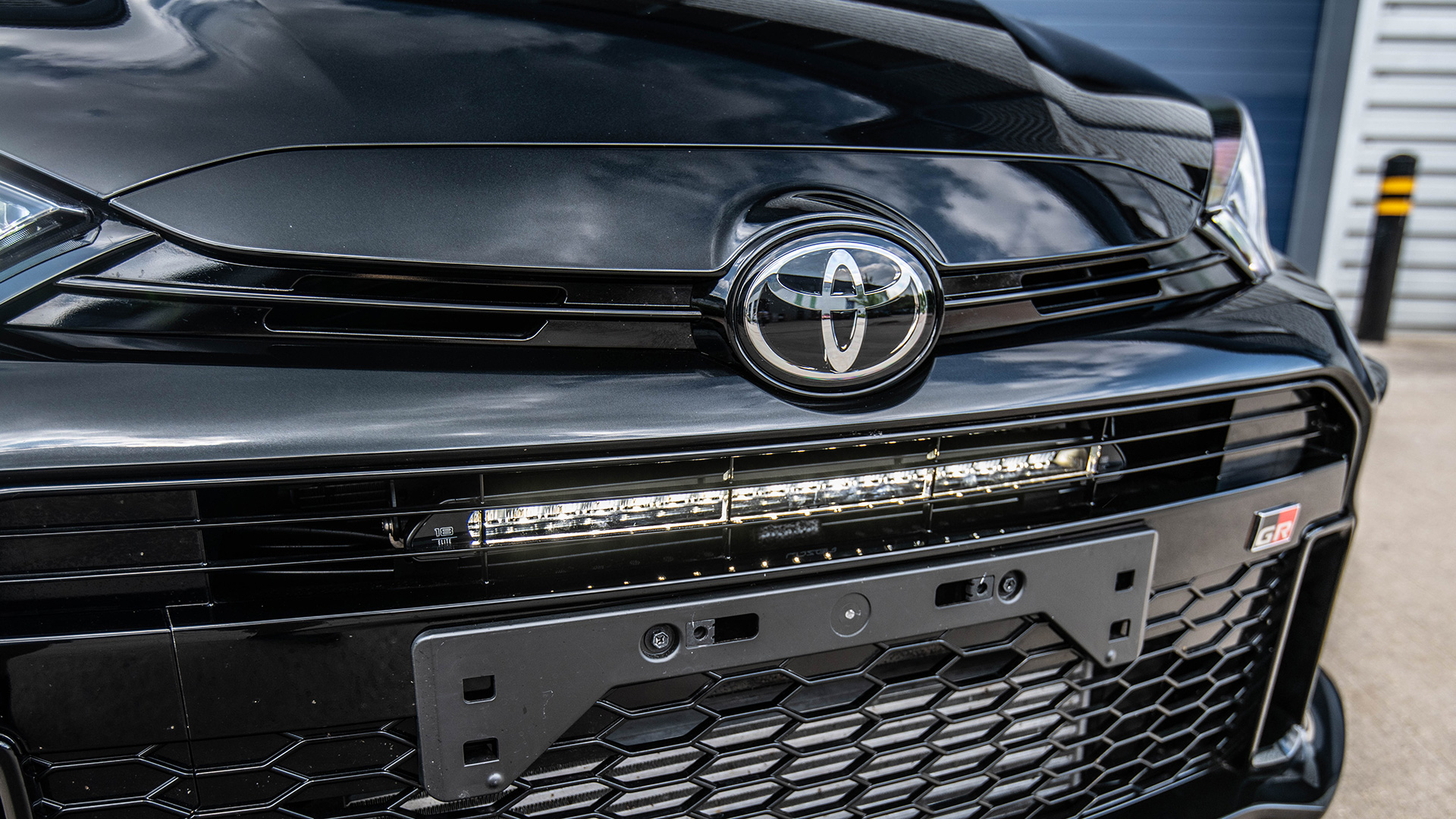 Behind the Grille Mount
In addition to the grille integration kits we now offer a flexible, discreet and universal mounting solution that allows fitment of the auxiliary LED driving lights to almost any vehicle, 4x4 or truck with no drilling of bodywork required. It gives you a simpler approach, without the custom OEM-style integration as detailed above, which can be upgraded with new lights at a later date, or removed from the car altogether and swapped to a different vehicle.
Your auxiliary LED driving lights are installed behind the grille, mounted onto the crash bar or bumper beam. Fitment is very flexible and the choice of lights can be purely down to personal choice or available space. See our universal Bumper Beam Mounting Kit.
Our Linear range of performance LED lights have a very aerodynamic and low-profile design allowing for fitment within spaces that other lamps just would not be able to fit. Even mounting a Linear light in front of the grille, for instance, can remain discreet and unnoticed – until you switch them on, of course!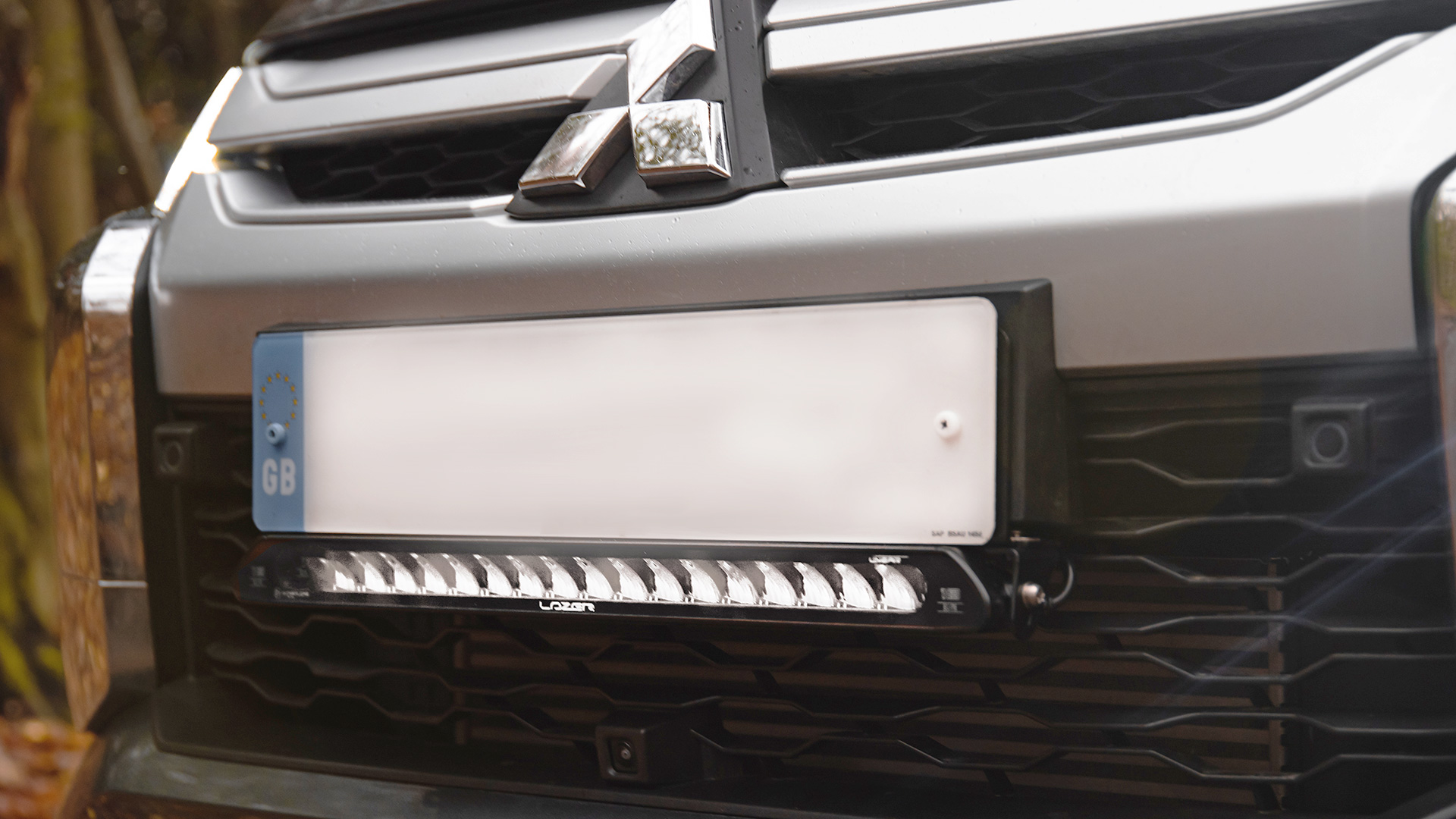 Numberplate Mount
A firm favourite, purely for ease of fitment, is the licence plate mount, or number plate mount. This consists of a pair of powder-coated, aluminium brackets with accompanying stainless steel fixings which fit behind the existing numberplate mounting bolts. The resulting mounting platform can accommodate either a pair of lights or a single light which spans both brackets.
The max load of 5kg is also very generous, considering that our largest 51" LED Triple-R lightbar weighs just 4.7kg. Although we wouldn't suggest you fit that particular powerhouse of an LED light across your number plate, it does demonstrate that your choice of LED driving light is not limited if you only use the number plate brackets.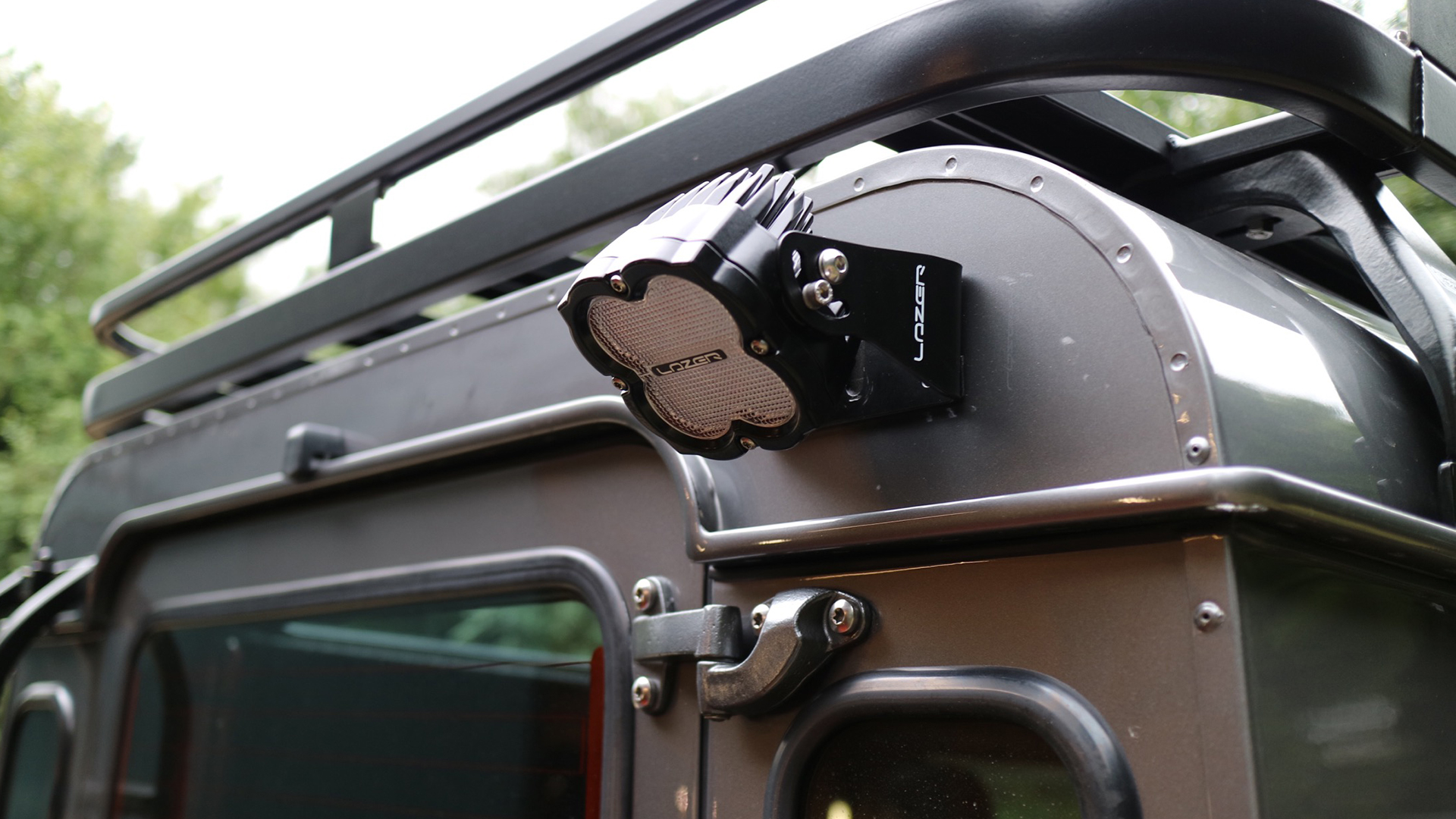 Loadbed Lighting
So far we have only talked about forward facing lights. But, of course, those with working, utility or recovery vehicles often have to access areas where night-time illumination might not be so great. It is not always possible to point your truck in the direction of the work being carried out, for these times we offer our Utility range of lights.
Compact in design but still powerful in output, the Utility 25, 45 and 80 deliver a huge amount of illumination, not only in the immediate vicinity of the vehicle but also provide up to 1 lux of usable light up to 75 metres away and across an area spanning 40 metres or more. We are talking most of a football pitch here, from one utility light!
With the added flexibility given by the mounting brackets – these can be mounted to any surface and the light angled to wherever you need it – the Utility series are the perfect choice for vehicles working away from street lights.
In addition to the compact Utility series we also offer a 'Flood' version of the Linear-24 lightbar. This has the same aerodynamic form factor as the standard Linear-24 but with a customised reflector design which creates a floodlight beam pattern at the side or rear of a vehicle, truck or agricultural machinery.

Position Lights
Finally we take a look at Position Lights. While not specifically a mounting point variable, it could be useful to consider a high performance LED light which also offers a position marker or sidelight function.
This is similar to a vehicle's normal sidelights and can serve to mark the position of a stationery vehicle even when the headlights are switched off. Our position marker lights are available with either white or amber lights depending on the intended use and what regulations might influence the choice.
You can see a full list of available mounting brackets HERE
We hope you have found this LED lighting mounting Position Guide useful, if nothing else it should prove that the choice of light and mounting position on your vehicle is not a limited decision. There are myriad options. If you need further advice on mounting our high performance LED driving lights to your vehicle please don't hesitate to contact us, or get in touch with your nearest stockist, who will also be able to assist in your choice of lights.
See More. Go Further. Go Safer.